New England Patriot's Chad Ochocinco's Gold Grill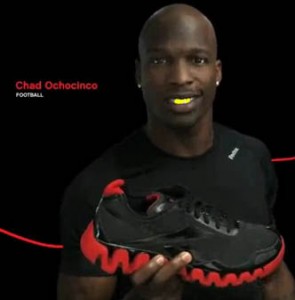 Known for his golden smile, his slick movies and his sterling reputation on the field (if not, off the field), Tapout recently announced that it has signed a deal with New England Patriots' wide receiver Chad Ochocinco to market Ochocinco's signature gold mouth guard (also known as a 'grill').
We can only guess at what karat/carat Ochocinco's mouth-guard is. Prudence would dictate that it's somewhere around 14k or lower, as gold with lower purities is much stronger. 18 karat gold, 20 karat gold, 22 karat gold and 24 karat (or pure gold) is rather soft and pliable and thus would warp or bend if Ochocinco ever bit down to it too hard…or got hit too hard, which the New York Giants will no doubt be trying to do this weekend at Super Bowl XLVI in Indianapolis. But then again, Ochocinco is known as much for his larger than life personality as he is for his on field skill, so we would not be surprised if his grill was 24 karat and was also studded with diamonds, rubies, emeralds and rubies!
At Toronto Gold, we would love to see Ochocinco's grill rise in popularity. We buy all forms of gold, silver and platinum, including gold teeth and gold grills. Last week we bought a 17 karat gold grill for just over $400, and have bought thousands of dollars worth of gold teeth. People come to us to sell their gold because we offer the highest prices in Toronto for old gold and silver. Our prices our posted online, and we walk you through the process of how we assess and appraise your gold so there is no uncertainty. Furthermore, we offer the highest gold prices upfront so there is no need for stressful negotiation, or wasting your time taking your jewelry to multiple pawn shops.
Most recently Chad Ochocinco was featured in several of the Reebok Zigtech commercials.

In 2011 Chad had only 15 receptions for 276 yards for his 2.116666 million dollars he made. That comes to $141,111 per catch and $7,669.08 per yard. Hopefully the New England Patriots will start getting their money's worth out of him soon, because otherwise, it is really not making sense why New England decided to add him to the roster. He is also getting old, in fact his rookie year he had more catches, more yards, and made less money.
If you're curious to know how much your gold grill or gold teeth are worth, please stop by our Bloor Street store (829 Bloor Street West, Toronto, Ontario) for a free gold appraisal!
Ronan Levy
President, Toronto Gold