Toronto Gold Stars is a blog series that focuses on the new or obscure locations in Toronto. As a business, we're dedicated to delivering the best service and prices for our clients, but we're also committed to helping them know our city! Every few weeks, we set out to explore the nooks and crannies of our city to uncover hidden gems and other well-kept secrets. Imagine it as urban prospecting—our way of finding the hidden gold stars of our city and sharing it with you all!
---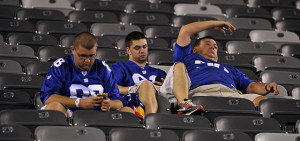 The epic faceoff between the New England Patriots and the Philadelphia Eagles will be happening this Sunday, and if you have no idea who these teams are or why this event is epic, then this article may be for you. This Sunday, legions of football fans in Toronto will be cheering for their favourite teams at the long-awaited Super Bowl LII, and chances are, some of your friends will be among them. Even if football isn't your thing, the Super Bowl is always an exciting event with high stakes, free-flowing beer and plenty of food to go around. So when your football fan friend invites you to join in on the craziness this weekend, there's still a lot to do besides actually having to watch the game! For non-football fans, here are five places where you can go to enjoy the Super-Bowl (without having to watch it)!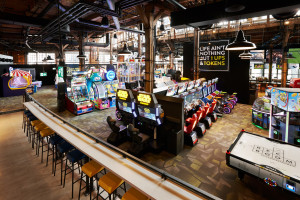 The Rec Room – 255 Bremner Blvd.
Opened near the historic Roundhouse Park in June 2017, the Rec Room added to the CN Tower, Rogers Centre and Ripley's Aquarium as part of a prime tourist and entertainment area in downtown Toronto. Occupying over 40,000 square feet of space, the Rec Room bills itself as a "social playground" and is a bar, restaurant and arcade all rolled into one. While the main area of the Rec Room sports a full service bar and a large screen that often shows the latest sports games, those who aren't sports enthusiasts can choose from a wide range of activities such as video arcade games, skee-ball, air hockey and even a virtual reality car simulator.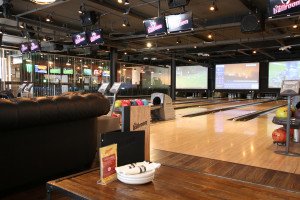 The Ballroom – 145 John St.
Taking up over 23,000 square feet in the heart of the entertainment district, The Ballroom is well known as a sprawling bar and restaurant which offers a wide range of pub games and live entertainment. However, the main selling point of The Ballroom is that it boasts the only ten-pin bowling alley in the downtown core. Even if you're not interested in watching the big game, you can always settle for a few drinks and bowl a few rounds!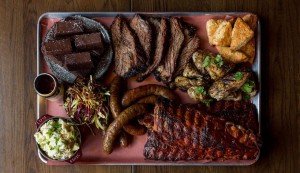 Liberty Commons – 42 Liberty St.
One of the best parts of any Super Bowl party is the food being served. No gathering is ever complete without plenty of chicken wings, nachos, ribs and other artery clogging selections. Built like a classic beer and food hall but infused with a modern twist, Liberty Commons serves up food that will satisfy any meat lover's craving. If you're among friends who are watching the game, be sure to try out the LC BBQ Platter, which serves up a whole pound of beef brisket, a half rack of pork ribs, half a jerk chicken, one pound of chicken wings and a generous helping of pork sausage. You might be too busy eating to even notice a game going on!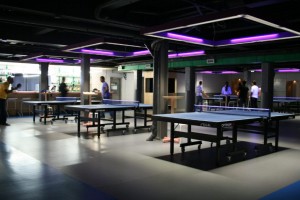 SPiN – 461 King St. West
As you step through the doors of SPiN, you might start to wonder if you came to the right place. While SPiN is first and foremost a wet bar, the venue has only a few televisions and more ping pong tables than actual dining tables. Possibly the only table tennis themed bar in Toronto, SPiN has been known to host elaborate tournaments as well as some intense competitions among friends. Even if Super Bowl Sunday doesn't appeal to you, going to SPiN will guarantee you a good time anyways. Because food, beer and ping pong. Enough said.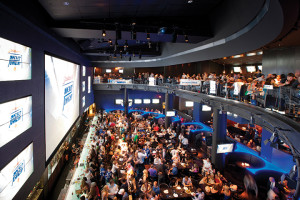 Real Sports Bar – 15 York St.
If you're not a sports fan, then this place might actually convert you into one. Built in an enormous two-storey venue that takes up over 25,000 square feet, the Real Sports Bar features 199 HD TVs, 50 different brews of beer and an extensive bar menu that holds several award-winning entrees. Impressive as that is, the bar's crown jewel is perhaps its massive 39-foot high-definition big screen, which shows every major game to fans on both levels of the bar. From the celebrating crowds to the abundance of food and drink, the Real Sports Bar captures the unmissable excitement and euphoria of every point scored and every championship won. Even if you aren't one to watch sports, it'll be hard not to get caught up in the joy and thrills of the hundreds of fans who will no doubt be there on Sunday.
Social Share