Toronto Gold Stars is a blog series that focuses on the new or obscure locations in Toronto. As a business, we're dedicated to delivering the best service and prices for our clients, but we're also committed to helping them know our city! Every few weeks, we set out to explore the nooks and crannies of our city to uncover hidden gems and other well-kept secrets. Imagine it as urban prospecting—our way of finding the hidden gold stars of our city and sharing it with you all!
---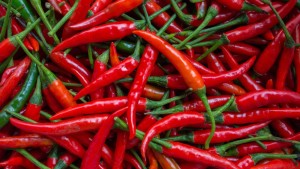 Toronto is easily one of the most multicultural cities on Earth and the diversity that makes this city great can definitely be found in our food culture. So long as you like to eat, you can find cuisine from virtually any corner of the world. With so much to choose from, it's hardly a surprise that the city has its fair share of spicy food. From Ethiopian Doro Wat to home grown Hot Wings, there's enough in Toronto to fulfill any curiosity and satisfy any craving. For those bold enough to set their tongues on fire, here are five places in Toronto that serve up some of the spiciest dishes: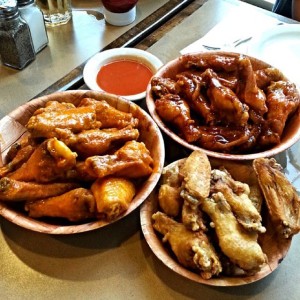 Duff's Famous Wings – 558 College St.
Known for having some of the best chicken wings in Toronto, Duff's is a sports bar/restaurant that has been serving up its authentic Buffalo wings since 1998. Besides their mouth-watering chicken wings, Duff's is also famous for their "Wall of Pain" – a list of individuals who managed to eat – and survive – wings made out of Duff's very own "Death" and "Armageddon" hot sauce flavours. But don't think you can eat just one or two to make that list! As of now, you will have to eat at least 44 Death or 47 Armageddon wings just to place!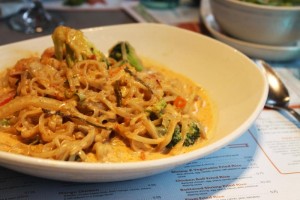 Salad King – 340 Yonge St.
Located in the heart of downtown just blocks from Eaton Centre, Salad King is a well-known restaurant that serves Thai and other Southeast Asian cuisines. With a wide selection of curries, noodles and soups, Salad King is a staple for any spicy food lover. However, what sets them apart from other Pan-Asian restaurants is that the spice level on almost every dish is fully customizable. Diners have the option of having up to 20 red chilli peppers prepared with their meal! Anything above ten peppers has been described as agonizing!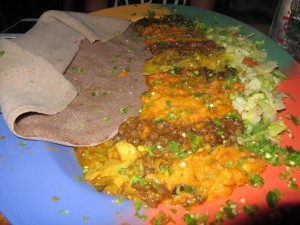 Nazareth – 969 Bloor St. West
Ethiopian cuisine is distinguished by its wide variety of extremely spicy stews and curries which are often paired with a spongy flatbread called injera. Food is often served in generous portions and is usually shared communally in large groups. Nazareth, located in Bloor West, already has a reputation of serving up some of the most authentic Ethiopian dishes in Toronto and is also well-known for its low cost, hefty portions and cozy atmosphere. Among the spiciest dishes in Nazareth's menu is the Doro Wat, a thick, fiery stew with chicken and whole boiled eggs. Although mind numbingly spicy, many diners have described the food at Nazareth as hearty and filling, leaving most people with an overall pleasant experience.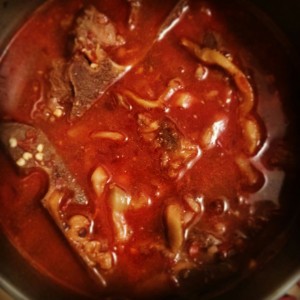 Chinese Halal Restaurant – 101 Ravel Rd.
Chinese Islamic cuisine originates from China's northern and western provinces and is characterized by its heavy use of meat such as beef and mutton, which is often prepared with strong, aromatic sauces. Although its spicy selections are not as famous as those from China's Sichuan province, the flavour and spice level of some dishes are almost just as intense. Nearly everything on the menu at Chinese Halal Restaurant is made with meat, and one of the spiciest dishes is the Boiled Spicy Lamb, which features large, tender chunks of mutton simmered in a scorching red-coloured stew. If you are a carnivore as well as a spicy food lover, this is definitely the place for you!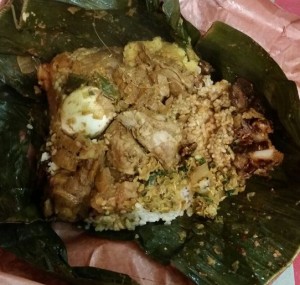 New Hopper Hut – 880 Ellesmere Rd.
The New Hopper Hut in Scarborough offers traditional Sri Lankan cuisine, which is often just as spicy as its Indian counterpart. The restaurant's signature dishes are its Lampries – heavily spiced meat wrapped tightly with rice and boiled eggs in a large banana leaf. Much like the wats served at Nazareth, the food at the New Hopper Hut has been described as hearty and rich, but with intense and lingering flavours. Simple and quick, yet unbelievably tasty, the food at the New Hopper Hut would satisfy any spicy food lover's craving!
Social Share