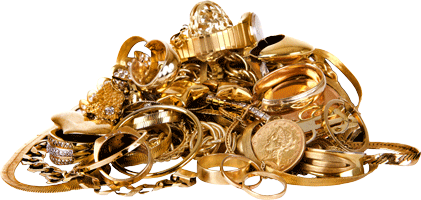 Whether you make your living buying and selling jewelry or simply have old jewelry that you no longer want or need, come on down to Toronto Gold. We're the best place to sell jewelry in Toronto—bar none. Our goal is to make the jewelry selling process simple and comfortable for you. At lots of Toronto jewelry buyers, the process can be uncomfortable and often argumentative. When you bring your jewelry to Toronto Gold, there is no negotiation. Your jewelry will be weighed and tested right in front of you.
We're trying to make the jewelry selling experience as customer-friendly as possible. That's why all of our buying prices are posted on TorontoGold.com and updated hourly. That way you'll know exactly what to expect before you even arrive at our store, located at 829 Bloor Street West.
We're so confident that we offer the best prices in Toronto that we offer a 150% Price Guarantee. If you bring us a written estimate from another Toronto jewelry buyer on the same day that is higher than ours, we'll beat the price by 50% of the difference. Lots of Toronto jewelry buyers use high price quotes to draw in customers. Once they get you in the store they surprise you with fees and commissions. Not at Toronto Gold. The price listed on our site and in our store is what you'll get.
Our friendly and well-trained staff is available to help you every day. Once we greet you and assess your jewelry pieces to determine which are pure gold and which are gold-plated, we'll put the pure gold through a series of tests to determine its karat value. The first test we perform is the acid-scratch test. This test is used to determine a ballpark range for the karat amount. We use 10 karat and 14 karat sample pieces to compare the results of the scratch test. If everything goes well then the acid-scratch test is the only one we need to perform.
Once all of your items have been sorted by karat, we weigh them to determine their value. After the items have been sorted by karat and accurately weighed, we can provide you with a quote. The quote itself shouldn't provide much surprise since all of our buying prices are listed on our website and posted in-store.
You'll be given a cheque immediately following your sale. You won't have to wait up to two weeks to receive the cheque in the mail, as is the case with many other Toronto jewelry buyers. When you bring your jewelry, and other precious metals to Toronto Gold, you can rest assured that you're working with the best place to sell jewelry in Toronto. Come on down to visit us. We're open seven days a week and we're always excited to meet new customers. See you soon!