Toronto Gold Stars is a blog series that focuses on the new or obscure locations in Toronto. As a business, we're dedicated to delivering the best service and prices for our clients, but we're also committed to helping them know our city! Every few weeks, we set out to explore the nooks and crannies of our city to uncover hidden gems and other well-kept secrets. Imagine it as urban prospecting—our way of finding the hidden gold stars of our city and sharing it with you all!
---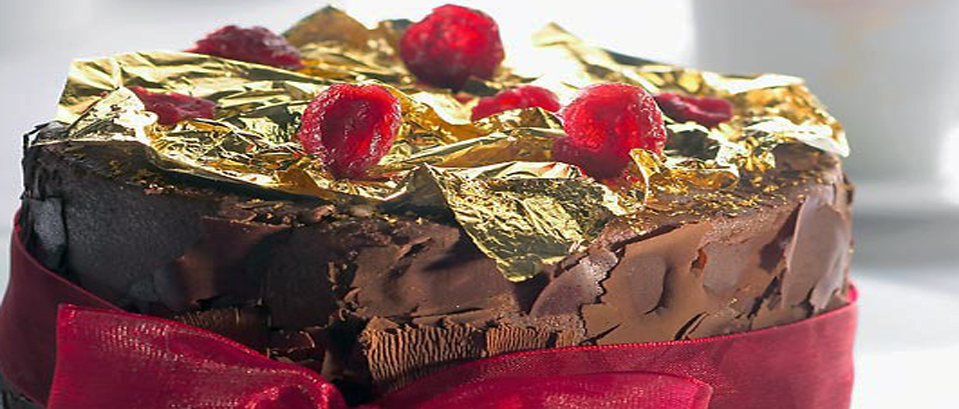 If you were one of the many people who attended the CNE this year, you might have come across the Instagram-worthy $100 Burger, a hefty sandwich with a bun topped with 24K gold leaf. For those of you wondering, gold is a chemically non-reactive metal, meaning small amounts of gold that are at least 90% pure will either be absorbed by the body or go straight through your digestive system. And despite sounding like something only billionaires can snack on, edible gold can be expensive – but not completely unaffordable, and it can be found on some luxury desserts or entrées. In Toronto, a handful of places have at one point sprinkled, layered or dunked their food with the luscious metal. Here are just a few of them: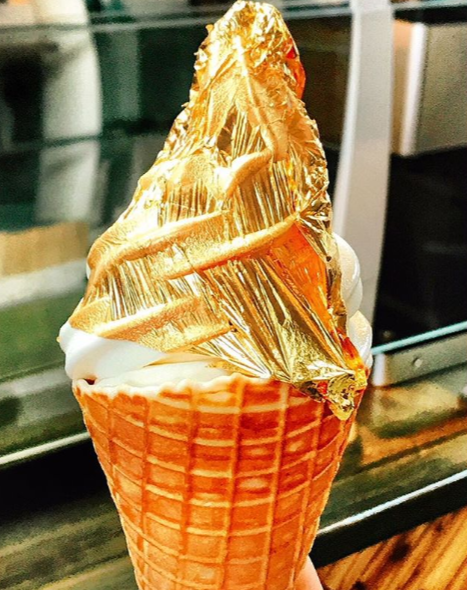 Eative Film Café and Restaurant – 230 Augusta Ave.
The Eative Film Café started off as a simple shop in Kensington Market that served ice cream, gelato and other simple desserts. Gradually, the restaurant began to take a bolder approach by expanding their menu to serve more selections like smoothies, light snacks and brunch entrées. True to the diversity of Kensington Market, the café also experimented by combining authentic Asian styles with Canadian classics, creating fusions like the Market Breakfast Poutine – hot, thick fries served with Japanese coconut curry, and the Tokyo Omelette – a classic omelette served with roasted seaweed, Japanese rice balls and miso soup. Earlier this summer, the café surprised the city by introducing its selection of gold-plated desserts – ice cream and cheesecakes wrapped in a thin layer of 24K gold. Eative now sells these gilded treats for $12.00 and $20.00 respectively and has plans to make gold wrapped burger buns and sushi rolls in the near future.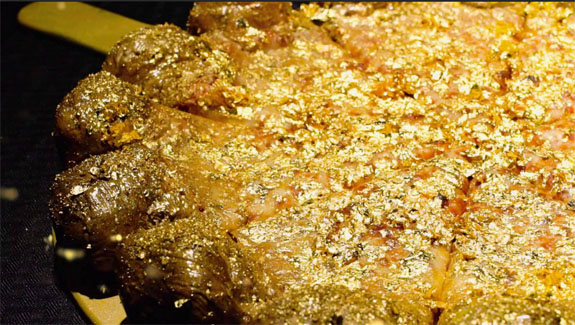 Magic Oven – 302 Eglinton Ave. West
For over 20 years, the Magic Oven has been providing Toronto with fresh pizzas made out of natural and unprocessed ingredients. While the pizzeria boasts a menu that has plenty of healthy and nutritious items, including a wide selection of vegan and gluten-free options, it also has its share of gourmet pizzas covered with toppings such as cheese, pepperoni, chicken and prosciutto. On special occasions however, the Magic Oven has made what it calls "Uber Sustenance" – a $108.00 pie covered with 22K Italian gold leaf. These golden pizzas have been made on special days such as Valentine's Day and the pizzeria has sold about 500 of them in a span of 15 years. What a way to impress your date!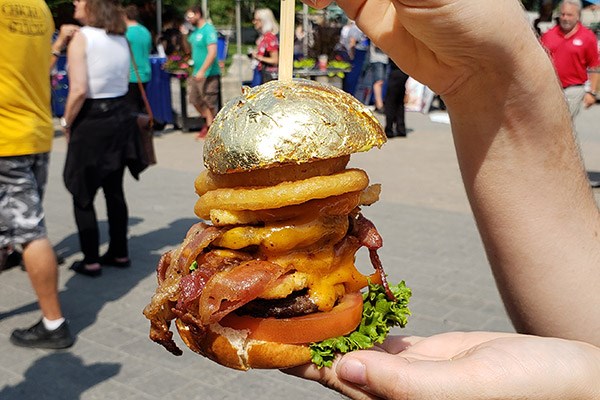 Bacon Nation – 249 Augusta Ave.
Bacon Nation was founded on the fundamental notion that bacon, in all its forms, is a national treasure. Launched in 2012 as a simple food stall at the CNE, the business has since grown into a full-service restaurant with its own food truck. For the last 8 years, the restaurant has delighted the city of Toronto with bacon-inspired creations such as the Bacon Nation Poutine, the Pig Mac and the Bacon Caramel Cheesecake. Perhaps as a way to honour the event that put them on the map, the people at Bacon Nation were the ones who concocted the $100-burger at the CNE this year. The burger itself is a gargantuan sandwich stacked high with two beef patties, melted cheese, onion rings, avocado and a generous smattering of bacon, all loaded between two brioche buns wrapped in 24K gold leaf. For those more "economically minded," the restaurant also offered 'slider' versions of the gold-plated burgers that sold for $24.95 each.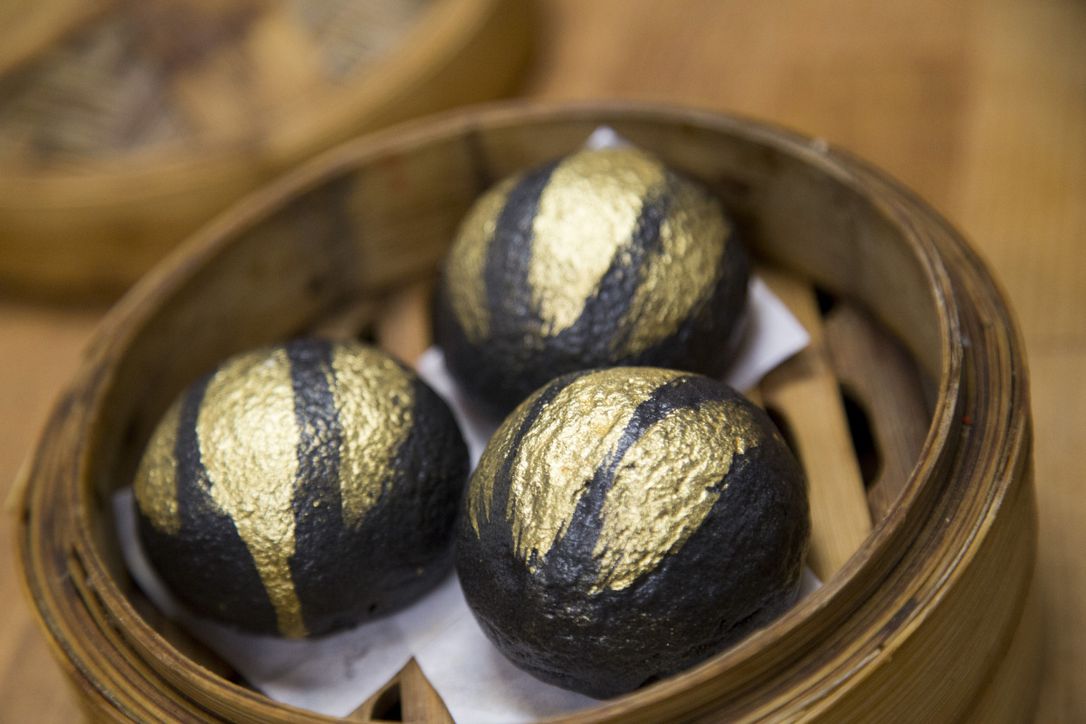 Yu Seafood – 270 West Beaver Creek Rd.
For fans of Chinese dim sum, or seafood in general, Yu Seafood in Richmond Hill is the place to go. While the restaurant offers dim sum classics such as shao mai, har gao and sticky rice rolls, it also has an extremely impressive seafood menu that includes sashimi platters, deep fried lobsters and steamed king crabs. As a high-end restaurant, Yu Seafood is known to throw in a few luxury "spins" to traditional dishes, such as infusing their boiled crabs with Japanese sake or garnishing their dumplings with edible flower petals. In some of their desserts, such as the Bamboo Charcoal and Egg Yolk Bun and the Black Sesame Pastry, small hints of gold are either painted or sprinkled on, giving each dish a truly impressive display.