Toronto Gold Stars is a blog series that focuses on the new or obscure locations in Toronto. As a business, weíre dedicated to delivering the best service and prices for our clients, but weíre also committed to helping them know our city! Every few weeks, we set out to explore the nooks and crannies of our city to uncover hidden gems and other well-kept secrets. Imagine it as urban prospectingóour way of finding the hidden gold stars of our city and sharing it with you all!
---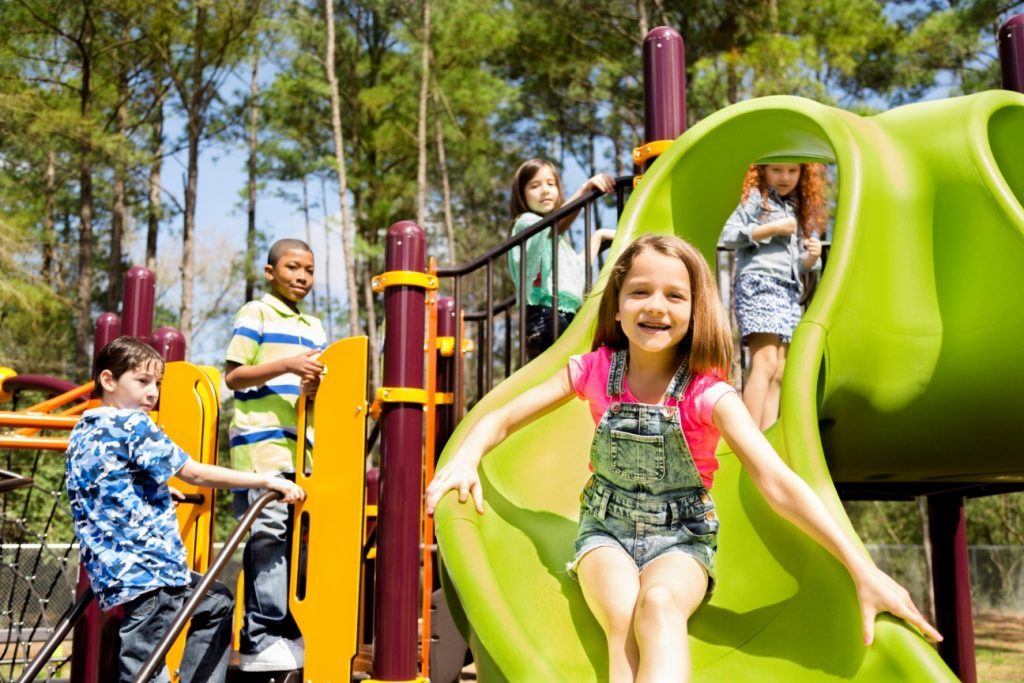 Itís always a great time to be in Toronto during the summer, but if youíre a parent, youíre probably going to have your hands full once school gets out. Fortunately, the city has many great parks and playgrounds to help keep you and your kids busy. The best playgrounds are the ones that capture imaginations, offer many things to do, while also giving children a fun, physical challenge. As luck would have it, Toronto has plenty! Here are the top 10 parks and playgrounds in Toronto: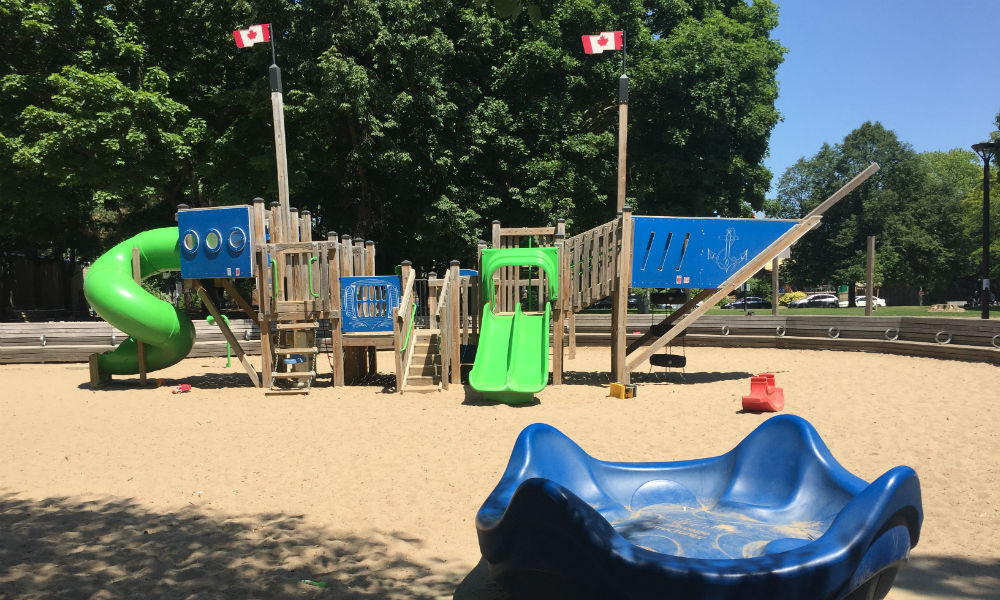 Vermont Square Park – 819 Palmerston Ave.
The Vermont Square Park is a 1.5 hectare park located near Dupont and Bathurst. It features the Dennis Lee Playground, which is probably one of the more interestingly designed playgrounds in Toronto. Well inside the park, surrounded completely by a large sand pit and lined with slides and ladders, is a pirate ship-themed jungle gym! If you have energetic children who have an active imagination, this place will certainly keep them busy! Outside of the playground, there is also a wading pool, an off-leash dog park and two bocce pits for grown-ups to enjoy!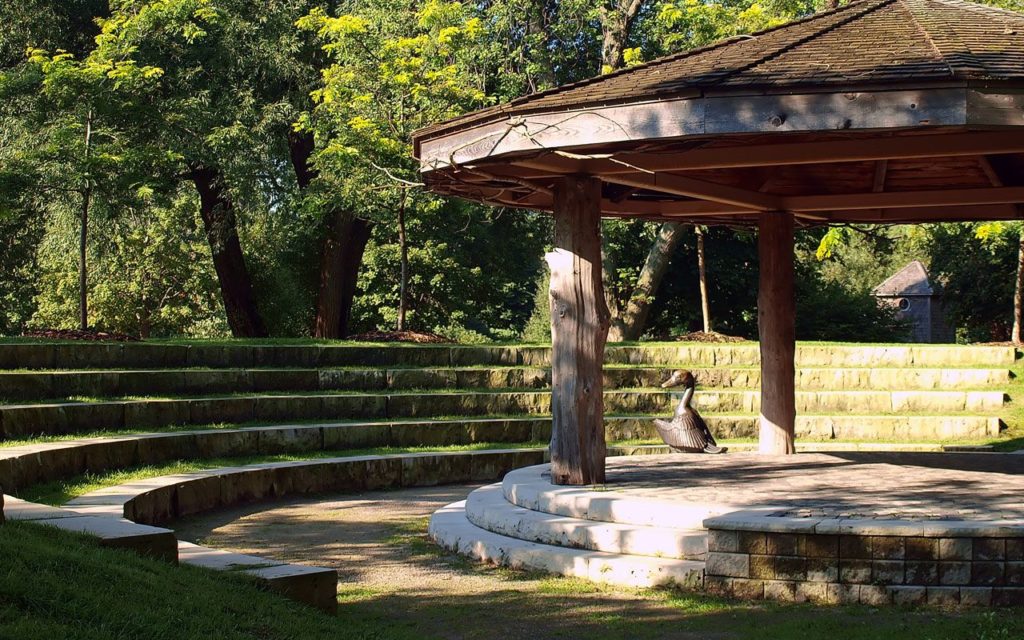 Toronto Island Park – 9 Queen's Quay West
Toronto Island features some of the most breathtaking views of the cityís skyline and is also home to some of the best playgrounds. The entire park is dotted with many swing sets, jungle gyms and sand pits that will literally take an entire day to explore. Some highlights include the Franklinís Children Garden Ė a greenery and flower garden for kids, as well as the Centreville Amusement Park. There are also plenty of beaches and outdoor picnic areas where you can simply lounge around. If youíre feeling more active, you can even rent a bike or a paddleboat and just take it easy!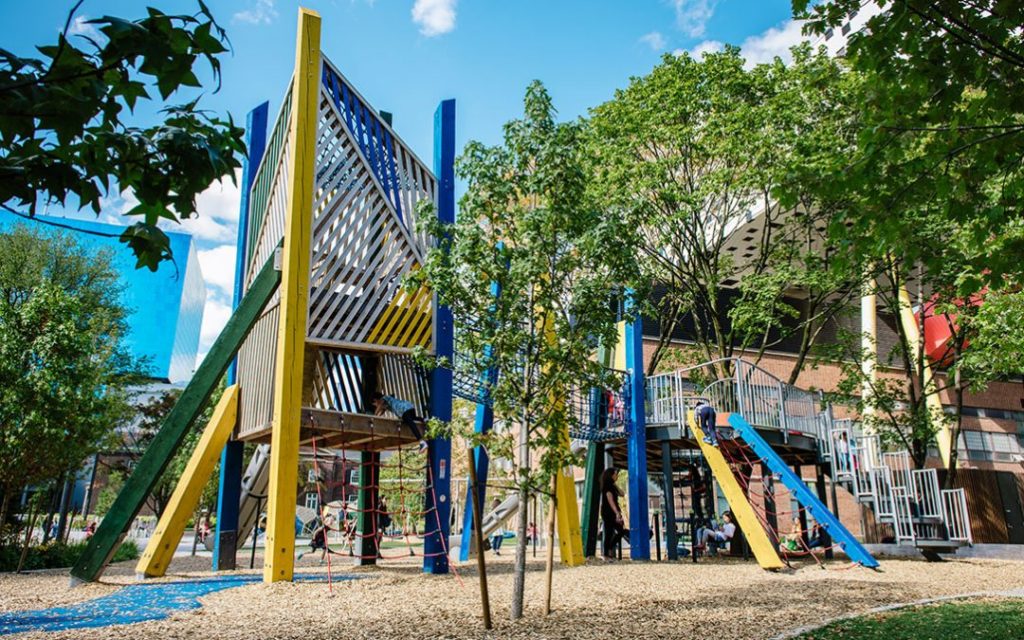 Grange Park – 26 Grange Rd West
As one of the newest parks in the city, Grange Park finds its home in one of Torontoís trendiest areas. Conveniently located near OCAD and the AGO, the playground in Grange Park pays homage to its artistic neighbors by having a jungle gym thatís practically a modern art sculpture. The design features many angular, hexagonal shapes that are linked by challenging rope ladders and bridges. Besides that, there is also an off-leash area for dogs, as well as a splash pad for hotter days. This playground is sure to captivate children with both active and creative sides!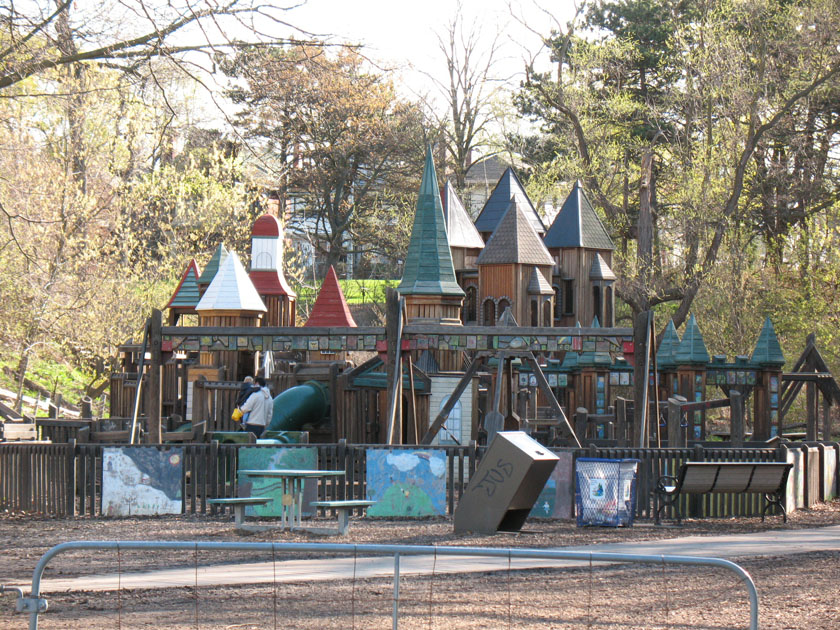 High Park – 185 Spring Rd
As the largest and one of the oldest parks in Toronto, High Park certainly has much to show off. Among the many attractions this park has to offer is the Jamie Bell Adventure Park, a massive playground thatís designed like an elaborate medieval castle! The playground was rebuilt in 2012 after a devastating fire destroyed the one before it. The reconstruction effort was spearheaded by celebrity home contractor Mike Holmes, along with hundreds of volunteers, who wanted a place for children to stretch the limits of their imagination. As a testament to their vision, the park also features a sculpture of ďA Sword in the StoneĒ Ė a nod to the legendary Excalibur!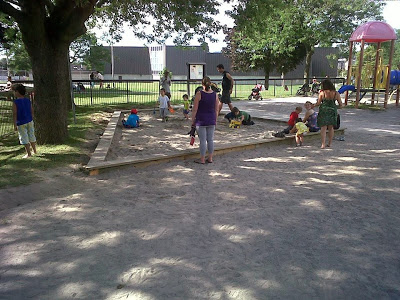 Earlscourt Park – 1200 Landsdowne Ave
Unlike other parks on this list, Earlscourt Park is much smaller and simpler. However, its lack in size is made up for its natural serenity and its surprisingly large number of facilities. While the park has a standard sand pit and jungle gym, it also features a multipurpose field, a basketball court and a baseball diamond. There is also a small wading pool in the park, while the larger Giovanni Caboto pool is only steps away. The latter is even equipped with a large water slide thatís fun for all ages!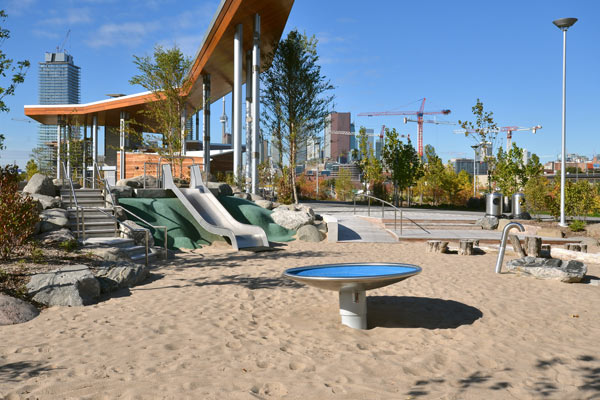 Corktown Common – 155 Bayview Ave
Corktown Common is a massive 7.3 hectare park that was built along the Don River in 2014. Given its proximity to such a natural environment, its not surprising to see all kinds of small wildlife there. The park features a uniquely designed playground thatís inspired by its natural roots. There are slides that are evocative of flowing creeks, as well as sandpits that are designed to look like ponds and lakes. There are also plenty of swings, balance sets and even a splash pad. Outside of the playground, the park is interlaced with many walking trails that will let you experience the natural sights of the surrounding area.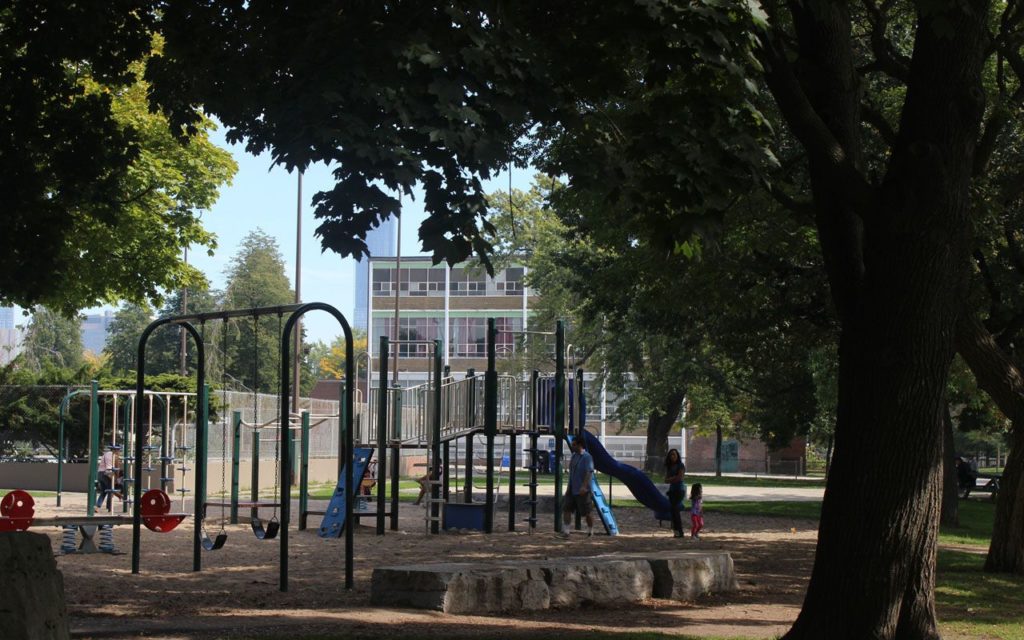 Alexandra Park – 275 Bathurst St
Alexandra Park is a great place for families, especially those with older kids. †While the area sports a standard jungle gym with slides, swing sets and monkey bars, the park also has a skateboard area, a volleyball court, a community garden and even an outdoor curling rink thatís open in the winter! For this summer though, be sure to take advantage of the nearby outdoor pool, as well as the parkís brand new splash pad!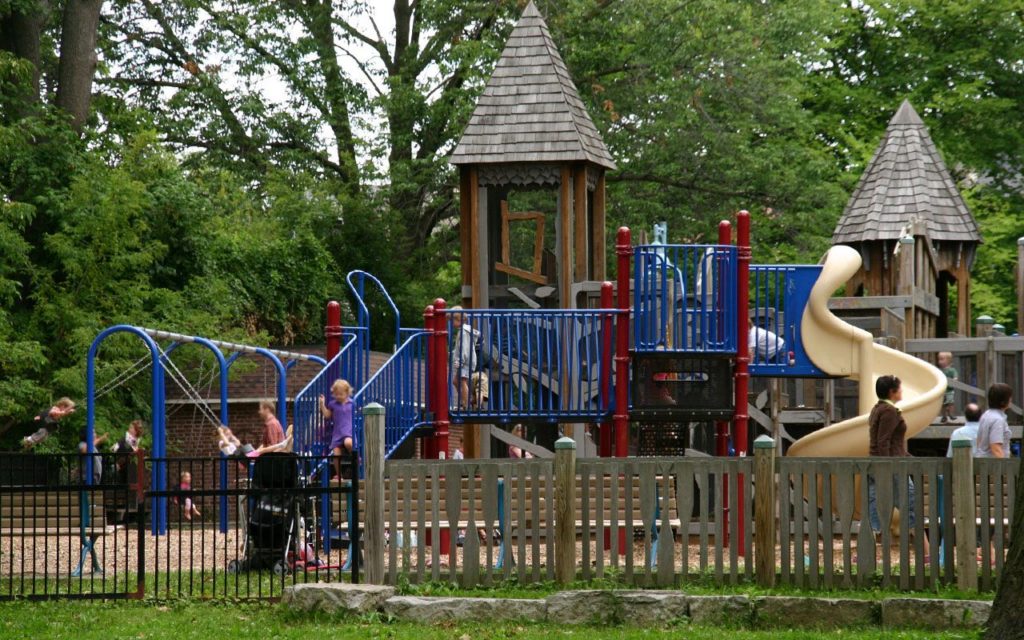 Kew Gardens – 2075 Queen St. East
Located near the beaches area of Toronto, Kew Gardens is home to some of the most beautiful sights in the city. The park itself sports some impressive features as well, including an elaborate, castle-themed playground as well as a grand wading pool thatís comparable in size to some small swimming pools! If all this doesnít wear your children out, you can always take them on a nearby nature trail or on a historical walk to check out some of the oldest buildings in the city!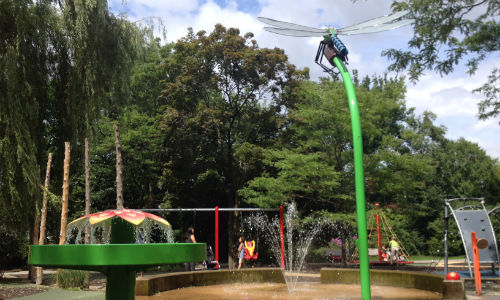 Oriole Park – 201 Oriole Pkway
Oriole Park is a large 2.9 hectare park thatís known for its green landscape and relaxing atmosphere. The parkís playground is a practical obstacle course thatís laden with monkey bars, climbing ropes, slides, seesaws and swings. On top of that, the park also has a clubhouse, a baseball diamond, a sand pit, a wading pool and two tennis courts. However, what really makes Oriole Park stand out is its elaborate splash pad, which is designed to evocate a green pond. The site is adorned with sculptures of a lily pad, frogs and even a giant dragonfly!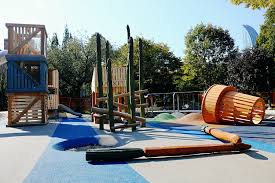 St. James Park – 120 King St. East
St. James Park is another park with a uniquely designed playground. Located near the iconic St. Lawrence Market in downtown Toronto, the playground gathers inspiration from its neighbour by incorporating food and colour into its surrounding play structures. Within the large playground are beautifully designed sculptures of asparagus, carrots and even a spilled ice cream cone. The playground offers many places for kids to climb and also sports a rope bridge and a merry-go-round. With so much to do and see, this will definitely keep your kidsí attentions!